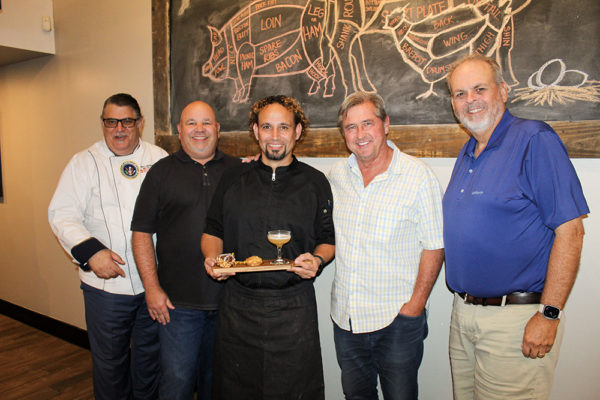 CONTACT INFORMATION:
Artistry Restaurants
Melissa Elders
(850) 585-2585
[email protected]
RELEASE DATE:
June 22, 2023
Industry leaders meet to kick off planning a key ingredient for the celebration – Food
As America's 250th birthday approaches, industry leaders met at a special luncheon on June 12th to discuss celebrating America's cultural culinary history. The luncheon was held at Artistry Restaurants' Boca in Winter Park, Florida.
Through the decades, White House Chefs reflected American culinary history at state dinners, luncheons and private presidential meals. "Food unites us. Celebrating America's cultural culinary during the semiquincentennial will be a key ingredient to do just that", remarked Rick Jones, Captain and Creative Officer at FishBait Solutions.
Attendees at America's 250th Birthday Party Luncheon were treated to Chef Omar Torres and Boca's four course meal consisting of presidential recipes, including Franklin D. Roosevelt's Light Summer Seafood Soup, Jefferson's Beef Vol-au-Vent, Kennedy's Boston Cream Pie with Polynesian Coconut Pineapple White Chocolate Chip Cookies and Boca's surprise dish of Black truffle and morel tortellini with a tomato butter sauce and grilled citrus lion's mane mushroom, all expertly prepared by Boca's Chef Omar Torres. Mark Kirke, Artistry Restaurants Chief Restaurant Officer commented, "It has truly been our pleasure to showcase our talented staff and participate in the planning for America's 250th Birthday Party."
Chef Mongiello shared, "As we prepare for this American milestone, we hope you will join us in participating in celebrations across the nation."
###
About Artistry Restaurants
Artistry Restaurants is a boutique restaurant group committed to the art of hospitality, offering its guests memorable experiences and its team members opportunities to thrive and grow. Artistry currently owns and operates 5 distinct brands comprised of 30 restaurants and has 3 additional restaurants under development. Artistry's portfolio includes Oak & Stone Craft Beer & Artisan Pizza, a 5-unit, high volume New American tavern offering craft beer and whiskeys, artisanal wood-fired pizzas, craft burgers, signature wood-oven wings and healthy salads featuring fresh and local ingredients. Guests also "craft their own experience" by pouring from the largest restaurant self-serve beer wall in the state of Florida. Oak & Stone is designed to create an exciting, interactive environment to enjoy great food and drink with family and friends, with each location also offering outdoor dining options. In addition to opening additional company-owned restaurants, Artistry plans to begin franchising Oak & Stone later this summer. For more information, visit www.artistryrestaurants.com
About Chef Martin Mongiello
Chef Mongiello is a former White House Chef and General Manager of the Camp David Resort and Conference Center. He is Chair of the Board of Trustees for the US Presidential Service Center and the US Presidential Culinary Museum, and a noted speaker and author.